Check Our Production Videos:
Please kindly send us your inquiry overhead service drop cable list and order quantity, our sales team will reply you within 12 hours. Email: summer@hdcaerialbundledcable.com
Service drop cable feature
Voltage: 0.6/1Kv
Type: Single/duplex/triplex/quadruplex
Phase conductor: Aluminum(AAC)
Neutral messenger: AAC/AAAC/ACSR
Insulated: PE/PVC/XLPE/LEPE/HDPE
Color: Black or as your request.
Standards: IECA or according to your requirement
Packaging: Wooden or Wooden Iron Drum.
Application: Overhead power transmission
American Standard Service Drop Cable
Quadruplex/Triplex/Duplex Service Drop Cable Parameter List
What is Service Drop Cable?
The service drop cable is used as an overhead power distribution line from the service drop infrastructure to the owner's premises. It's also commonly used in street lighting and outdoor security lighting. Conductors and the neutral messenger wire are made of concentrically stranded 1350-H19 aluminum alloy、 6201-T81 aluminum alloy、all aluminum conductor or aluminum-clad steel reinforced conductor. From utility power lines to residence buildings, you should use overhead service drop cable to transmit electricity. Is the use of the cable suitable for your needs?If you just need service drop cable, Huadong Cable Group is a good choice. Our company is a professional manufacturer of service drop cable, if you want to know more information about it, you can come to our company's website for more details. Email: summer@hdcaerialbundledcable.com

What are the types of service drop cable?
Generally speaking, according to the different number of cores, we can divide overhead service drop into different categories. They are single service drop cable、duplex service drop cable、triplex service drop cable and quadruplex service drop cable. Single service drop cable is designed to be used as a secondary power distributing cable, and commonly deployed in our residential places. When the voltage of power transmitted through the transformer drops to a safer voltage for our home, the secondary distribution will occur. Email: summer@hdcaerialbundledcable.com

Duplex service drop cable has two conductors and four electrodes. Two of its electrodes come in a concentric-lay strand. One is an insulated phase electrode, while the remaining electrode is bare and left as a neutral conductor. Triplex aluminum service drop cable is an assembly of three conductors. Two phase conductors, and one neutral messenger wire. The quadruplex aluminum service drop cable is a 4-conductor cable. The assembly includes 3 phase conductors and one neutral messenger wire. Huadong Cable Group manufactures all types of service drop cable. No matter what type of service drop cable you need, our company can make it for you. Just message us now and let us start a pleasant partnership. Email: summer@hdcaerialbundledcable.com

What is the structure of overhead service drop cable?
Aluminum service cable consists of two parts: the conductor and the insulation. Overhead service drop cable's conductor core is aluminum core or copper core. In the distribution network, the aluminum core is more application. Because the aluminum is lighter, and the cost is cheaper. In addition, the requirements of the line connectors and support parts is low. And the original distribution line based on aluminum conductor steel reinforced, use aluminum conductor easy to connect with the original network. So in the practical application, aluminium service wire has a very wide range of applications. Email: summer@hdcaerialbundledcable.com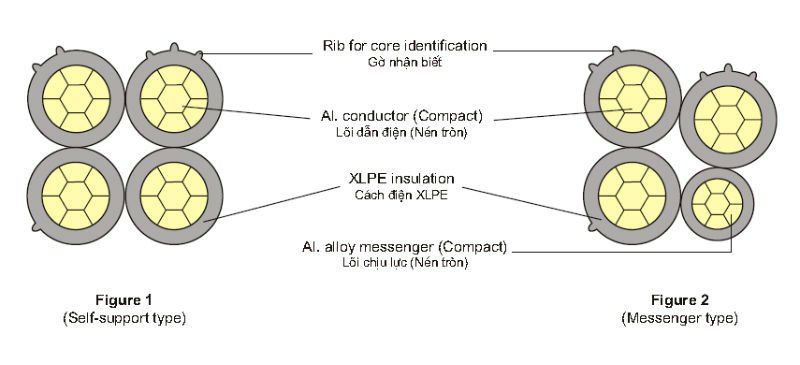 The copper core line is mainly used as the down-lead of the transformer and the switch equipment. Insulation materials for aluminium service wire insulation coverings layer are available in two types of thick and thin insulation. Thick insulated operation allows frequent contact with trees, but thin insulation only allows short-term contact with the trees. And insulation protective layer has some types. Such as cross-linked polyethylene and light polyethylene. Huadong Cable Group can make the overhead service drop cable you need based on your cable usage environment and specific requirements. Tell us your requirements now. Email: summer@hdcaerialbundledcable.com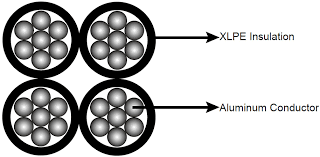 What is the characteristic of the aluminum service cable?
First of all, good insulation performance. Due to the extra layer of insulation, aluminum service cable have superior insulation performance compared with bare wires, which can reduce the distance between lines, reduce the insulation requirements of the support members of the circuit, and increase the number of loops of the same pole erection line. Email: summer@hdcaerialbundledcable.com
Secondly, good anti-corrosion performance. Because overhead insulated drop cable has an insulating layer, the degree of oxidation and corrosion is small than bare wires. As a result, aluminum service cable has strong anti-corrosion ability, thus prolonging the service life of the service drop cable. Email: summer@hdcaerialbundledcable.com

Thirdly, good anti-external damage performance. Service drop cable is overhead transmission line, therefore, it can reduce the influence of external factors such as trees, flying metal film and dust, reduce the short circuit between phases and ground fault. Lastly, aluminum service cable can achieve the required strength. Although aluminium service wire hasn't steel core, but tenacity enough, so that the mechanical strength of the cable can reach the stress design requirements. Overhead insulated cable has so many advantages than bare wires, whether in terms of performance or safety. And there are many service drop wire size you can choose. If you already knew which service drop wire size you need, Huadong Cable Group's service drop cable is definitely your best choice. Click here to get your quote. Email: summer@hdcaerialbundledcable.com

Aluminium service wire standard.
Huadong Cable Group manufactures production of overhead service drop cable in strict accordance with IEC standard or other standards. We manufacture the service drop wire size in strict accordance with the service drop wire specification. What's more, Huadong Cable Group are the service drop cable manufacturers, not just the distributor, so we can make the overhead insulated cable according to your requirement. No matter which country you come from, we can produce the aluminum service cable you need according to the standard of your country. If you want to know more detail informations, please contact us any time. We sincerely welcome you to visit the factory too. Email: summer@hdcaerialbundledcable.com

Our advantage
Product Process: We produce the overhead service drop cable & wire use the high quality aluminum material. Every production process has been strictly checked by our professional technical engineers. Email: summer@hdcaerialbundledcable.com

Packaging&Delivery: Before shipment every types of cables have been rigorously tested. Email: summer@hdcaerialbundledcable.com

Custom Service: If you want customize the service drop cable, just please send us your requirement. We will reply you within 12 hours. Email: summer@hdcaerialbundledcable.com