Check Our Production Videos:
Please kindly send us your inquiry triplex aluminum wire list and order quantity. Our sales manager will reply you within 12 hours. Email: sales02@huadongcablegroup.com
The introduction of cable triplex aluminio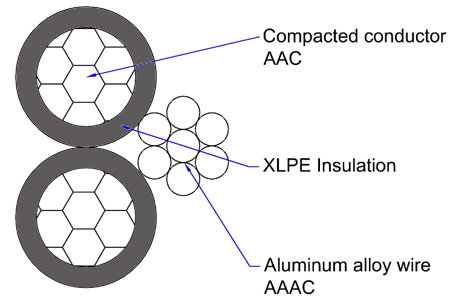 Product Structure View
Voltage: 0.6/1Kv
Phase conductor: Aluminum(AAC)
Neutral messenger: AAC/AAAC/ACSR
Insulated: PE/PVC/XLPE/LEPE/HDPE
Color: Black or as your requirement.
Standards: ICEA or according to your requirement
Packaging: Wooden or Iron Drum.
Application: Overhead power transmission
Email: sales02@huadongcablegroup.com
Specification Parameter List
What is the structure of the triplex aerial cable?
With the social and economic development, people are increasingly demanding on the reliability and power quality of power supply system. Power grid reconstruction and urban construction are also advancing constantly. Huadong Cable Group has been keeping up with the pace of development of social and economic. According to your requirements, to manufacture cable triplex aluminio that meet the specifications you have provided. If you don't know triplex service cable yet, I will tell you some basic knowledge about the triplex aerial cable as the following. Email: sales02@huadongcablegroup.com
The triplex aluminum service drop cable is an assembly of three conductors; The application of triplex cable with messenger is more extensive. So the composition of the three conductors are 2 phase conductors and 1 neutral messenger wire. Conductors are made of concentrically stranded aluminum alloy. Aluminum alloy、all aluminum or aluminum-clad steel reinforced conductor made up the neutral messenger wire . Why compress the concentric strands? Because doing so can reduce the overall diameter of the cable. The triplex aerial cable can carry up to 600 volts and can function in temperatures up to 90°C. If you want to know more about triplex aerial cable, Please  Email: sales02@huadongcablegroup.com
.

What is the cable triplex aluminio application?
Aluminum triplex underground cable is the cable rack hanging at a certain height from the ground on the pole, that is method of cable construction. Compared with underground cables, although cable triplex aluminio is more vulnerable by the outside world, not safe enough, not beautiful, but erection of triplex aerial cable is simple, low construction costs. Therefore, it is still widely used where there is difficulty in laying underground cables, where far away from the residents' gathering area, where the number of users is small and the changes are relatively large. According to different regional conditions to set up different cables is a wise choice. Huadong Cable Group will produce the most suitable for your cable triplex aluminio product. Just leave your message. Email: sales02@huadongcablegroup.com
What is the insulation of cable triplex aluminio?
Everyone familiar with the cable triplex aluminio knows, the standard of low-voltage(below 1kv incl ) overhead insulated cable provides three kinds of insulating materials, namely cross-linked polyethylene(XLPE), high-density polyethylene, polyvinyl chloride. The standard of medium-voltage(10kv-35kv)overhead insulated cable provides two kinds of insulating materials, namely cross-linked polyethylene(XLPE) and high-density polyethylene. In general, the transformation of low-voltage power lines had better not use PVC insulated triplex service cable. Email: sales02@huadongcablegroup.com
And high voltage lines shouldn't use PVC  as insulation material. Urban power grid transformation should first choose to use XLPE insulated cable triplex aluminio, rural areas, mountains and forests can choose XLPE and HDPE insulated triplex aerial cable. If you have no idea what kind of insulation materials you need, please feel free to contact us. We will choose the right triplex aerial cable for you according to your situation. Email: sales02@huadongcablegroup.com

These three kinds of insulating materials are compared with each other, cross-linked polyethylene(XLPE)has many advantages that polyvinyl chloride do not have. So correspondingly, cable triplex xlp also has many advantages. The first advantage is under normal conditions, the cable triplex xlp weather-resistant aging life expectancy can exceed 40 years. The second advantage is cross-linked polyethylene as a thermosetting material, it combined with the conductor stably. Email: sales02@huadongcablegroup.com
In the long-term operation of the cable, the basic shrinkage of the uneven situation rarely happen. The third advantage of cross-linked polyethylene is the proportion of small, low price, good mechanical and electrical properties, extrusion process convenient. So it is a useful overhead insulated cable material. If you need cable triplex xlp, Huadong Cable Group is absolutely your ideal choice. Email: sales02@huadongcablegroup.com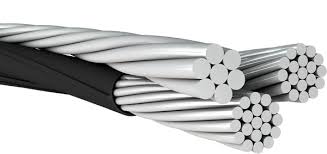 What are the characteristics of aluminum triplex underground cable ?
With the rapid development of distribution network, maybe there are many trees, serious corrosion, typhoon and many other factors cover the power supply area. Therefore, making the reliability of distribution network face new difficulties. Aluminum triplex underground cable using insulated wire instead of bare wire, achieved the insulation of distribution lines. It can be said that a major technological progress. Email: sales02@huadongcablegroup.com
Cable triplex xlp can better improve the reliability, stability and safety of power supply. It also can save the cost of power supply system maintenance and management. And help to improve the economic benefits of power supply enterprises. Compared with the overhead bare wire, cable de aluminio triplex has good performance, and the cost isn't too high. In rural power grid, according to local conditions, use triplex aerial cable is still very beneficial. Huadong Cable Group is a professional manufacturer. If you need aluminum triplex underground cable, please remember to contact us. Email: sales02@huadongcablegroup.com

What are the advantages of cable triplex aluminio from Huadong Cable Group?
There is no doubt that choosing the right cable company can bring you many benefits. Whether it's cable quality or your engineering costs, Huadong Cable Group promise to give you the best cable triplex aluminio and the most suitable triplex cable price. We are a formal large-scale manufacturers, not just distributors. Our cables and wires are factory outlets, there is no middleman, so you can rest assured that the price. From production, triplex wire for sale, to the after-sales service, we have an integrated service system. In every aspect of manufacturing, we will carry out strict quality control. Choose Huadong Cable Group, so that you have absolutely no worries. Welcome to contact us and visit our factory. Email: sales02@huadongcablegroup.com



Please feel free to leave your requirement, we will reply you within 12 hours. Email: sales02@huadongcablegroup.com